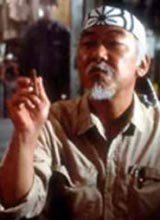 " Actor Pat Morita, whose portrayal of the wise and dry-witted Mr. Miyagi in "The Karate Kid" earned him an Oscar nomination, has died. He was 73.

Morita died Thursday at his home in Las Vegas of natural causes...In 1984, he appeared in the role that would define his career and spawn countless affectionate imitations. As Kesuke Miyagi, the mentor to Ralph Macchio's "Daniel-san," he taught karate while trying to catch flies with chopsticks and offering such advice as "wax on, wax off" to guide Daniel through chores to improve his skills...."
To Arnold of Happy Days and Mr. Miyagi of the Karate Kid, thanks for everything Pat.