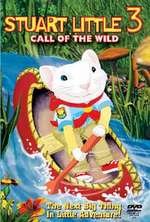 Unlike the two theatricals, which mixed animation with live action, "Stuart Little 3" is 100% animated.

Michael J. Fox reprises his role as the voice of the little mouse, while Geena Davis and Hugh Laurie make their third appearances as parents Eleanor and Frederick Little -- albeit in animated form.
It's got the original cast, it's 100% animated, and it's straight to video.
There's no excuse not to get it.