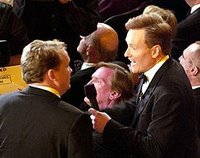 LOS ANGELES (Hollywood Reporter) - Conan O'Brien and his former sidekick on NBC's "Late Night," Andy Richter, are reuniting for NBC primetime, and this time Richter is the leading man.

The network has ordered "Andy Barker P.I.," a detective comedy pilot starring Richter, which O'Brien co-wrote and is executive producing.
Cool.
You think that dog puppet would guest star? What's his name? oh yeah... Triumph the Insult Comic Dog. Thanks Google.